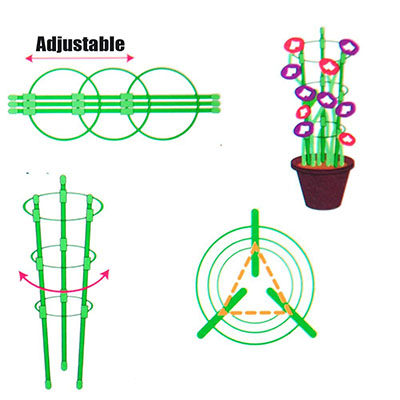 JPS02
Vegtables & Flowers & Fruit Grow Cage
with 3 Adjustable Rings 17.5"
RUGGED AND DURABLE:The Plant Support Ring Made of Durable Steel,UV Treated and Rust-resistant Plastic Green Coating,Reusable, Weatherproof & Non-rusting. Keep Your Garden Plants Upright and Can be Used for Many Growing Seasons.
WIDELY USED:This Plant Support Ring are Designed to Support and Protect Plant's, Flower's and Seedling's to Help,Securing Plants Straightening From Being Damaged or Break,Make the Shape of Plants More Vivid, Provide Stability to Vigorous and Growing Plants.
EASY ASSEMBLY:The 3 Rings Can be Adjustable According to Your Plant Size,No Tools and Minimal Time Needed To Set up Plant Support Ring on New Flowerpot.
SPECIALLY DESIGNED:Subtle Appearance,The Trellis Gives Your Climbing Plants the Support.Corrosion-resistant, Chemical Fertilizers, Pesticides and Fertilizer Erosion, Durable. For Morning Glory, Tomatoes, Sweet Peas and Other Rattan Plants.
Related Products